A Parent's Guide To Rehab For Teens
One of parents' biggest and most valid concerns about addiction treatment is whether rehab for teens works. Admitting your teenager to an inpatient or outpatient rehab program for substance abuse or mental health can be nerve-wracking, and it's perfectly fine to worry about your teen's needs and safety while they undergo a very important part of their early life.
As an adolescent addiction treatment center, we believe it's important for parents and their children to understand how rehab for teens works, whether it's effective, problems focused on in teen rehab, and the difference between inpatient, outpatient, and detox programs.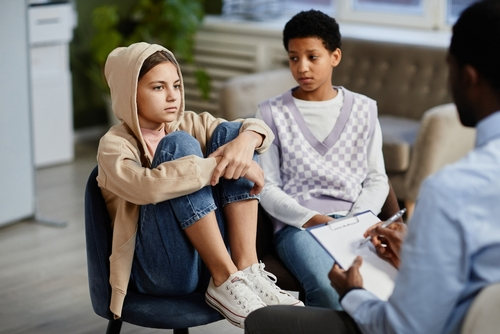 How Does Rehab For Teens Work?
The first step of rehab for teens involves spotting and identifying the need for addiction or mental health treatment. Not everyone needs rehab. Some parents or guardians can catch and have productive conversations with their teenagers about unhealthy habits they might adopt. But this can be a challenging part of a teenager's life, and they can feel attacked or judged pretty quickly if it's not done with compassion, love, and patience. However, some parents can feel out of touch with what their teen's mental health disorders or drug use.
The next step involves calling a treatment center and signing your teen up. In most states, parents or guardians can legally admit a minor into rehab. However, some states in the U.S. require a minor to give consent before treatment begins based on the level of care (residential, PHP, outpatient) and type of program (drug rehab, mental health treatment, or dual diagnosis). If a teenager is over 18, parents or guardians cannot force them to go to rehab, regardless of if they live at home with them.
Once admitted into a teen rehab center, adolescents typically turn in their cell phones to the staff during treatment hours. However, this differs for every center and type of care. Inpatient treatment centers, where teenagers stay overnight, usually have designated hours or days where they can access their phones. Outpatient programs usually require teens to leave their phones with them during most of treatment or not at all.
Rehab for teens usually lasts three months to a year, based on individual needs and goals. Some teens don't have a physical or psychological dependency to a specific substance like meth or opioids and don't require full-time treatment. Other teens might have a severe substance use disorder and require 24/7 care, monitoring, and treatment. While in treatment, teens will have one-on-one therapy sessions, group therapy sessions, discussions with psychiatrists or doctors about medication, and experiential therapy methods if the center offers them.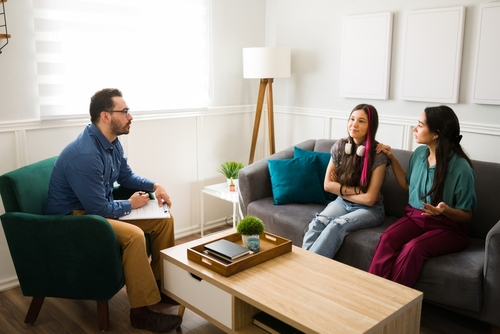 Is Rehab For Teens Effective?
Yes, rehab for teens is effective. However, numbers and statistics of adolescent recovery rates are only a partial measurement of success. Treatment centers usually use different measurements to define their success rates, including the number of teens who complete the program, the percentage of teens who remain sober within one month of leaving treatment, and follow-up interviews with past alums.
However, statistics show that teens with substance use disorders or mental health conditions have a better chance of recovery if their family participates in rehab. For example, family therapy sessions show teens in treatment that their family cares and supports them 100% of the way. It also helps resolve conflicts contributing to or worsening issues experienced by a teen. Some parents might be deterred from family therapy and fear they'll be targeted or judged, but that's never the case. Bringing family members into their teen's treatment builds trust, encourages honesty, and reinforces acceptance and forgiveness.
Read more: 7 Reasons Why Teens Are More At Risk For Addiction Than Adults
Common Problems Treated In Teen Rehab
When it comes to rehab, most people solely associate it with substance abuse treatment. However, the Substance Abuse and Mental Health Services Administration (SAMHSA) reported that over 9 million people in the U.S. have a substance use disorder (SUD) and a co-occurring mental illness. SUDs can also lead to the development of mental health issues, and many parents might overlook drug use as the source of anxiety, depression, or psychosis and vice versa.
The most common substance use disorders treated in adolescent rehab programs include:
Opioid abuse (prescription opioids, heroin, fentanyl)
Stimulant abuse (cocaine, meth, prescription amphetamines)
Cannabis abuse
Benzodiazepine abuse (Xanax, Ativan, Klonopin, etc.)
Hallucinogen abuse (MDMA, Psilocybin, Lysergic acid diethylamide)
The most common mental health disorders treated in dual-diagnosis-focused rehab programs include:
Anxiety, panic, and mood disorders
Schizophrenia and other thought disorders
Bipolar and personality disorders
Major depressive disorder
Conduct disorders (These are diagnosed as personality disorders after 18).
Post-traumatic stress disorder
Attention deficit hyperactivity disorder (ADHD)
Read more: What Is The Number One Drug Used By Teens (Post-Cannabis Legalization)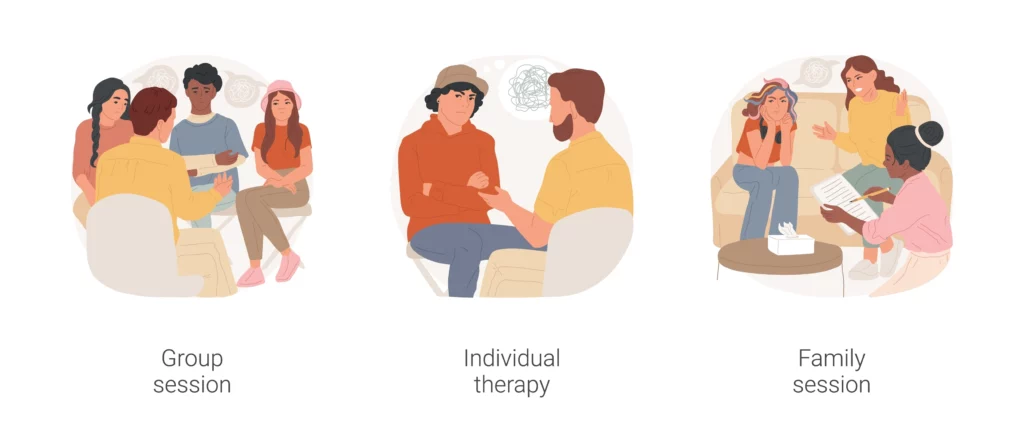 Inpatient Vs. Outpatient Teen Rehab
Inpatient or residential teen rehab requires adolescents to stay overnight and usually lasts up to 30 days before switching to a less structured program, such as partial hospitalization (PHP) or intensive outpatient. PHP and intensive outpatient programs don't require adolescents to stay overnight and usually last between 60 to 90 days.
Overnight and day treatment offers the same therapy methods and healing modalities but should be chosen based on your teen's needs, schedule, and insurance. Some insurance companies don't cover inpatient drug rehab, while others do. However, most insurance companies are willing to cover or partially cover outpatient treatment since it's less expensive and moves toward the same goal: recovery.
Teen Detox Vs. Rehab
Before a teenager is admitted to an addiction treatment center, they'll need to enter a detox program for teens if they're currently abusing substances. Otherwise, they'll be going through withdrawal symptoms at the same time as therapy sessions, group meetings, and other activities. Professional detox programs provide a designated space where teens are monitored and supported by doctors, nurses, and detox specialists.
Once a teen finishes a detox program and successfully pushes through withdrawal symptoms, they're ready for rehab. However, if a teen is feeling intense cravings for a substance they've already quit, drug rehab can help reinforce healthy coping skills and motivation.
Contact Louisville Recovery Center
If you're looking for drug and alcohol rehab for teens, contact Louisville Recovery Center. Our adolescent IOP program is the perfect place for teens aged 12-17 to overcome dangerous addictions and underlying mental health disorders. We treat and care for teenagers as individuals and understand their unique needs and goals, whether that's focusing on a career, school, or important hobby that's been clouded by drug abuse. Call today, and one of our admissions agents can help you get started.