Opioid Rehab in Louisville
at Louisville Recovery Center
Knowing where to look for rehab for opioids in Louisville is now more important than ever. Approximately 3200 residents of Kentucky died from a drug overdose involving opioids in 2019 alone. And that isn't the only frightening statistic.

Every day, 128 people die from opioid overdoses, according to the National Institute on Drug Abuse. If you or a loved one is addicted to opioids, you are in the right place. Although opioid rehab is rarely a preferred option, it is often a necessary one.

Louisville Recovery Center offers the right tools, methods, and therapies to help you conquer your heroin addiction and stay sober.
What are Opioids?
There are a number of opioids on the market, including heroin, fentanyl, and prescription painkillers such as oxycodone, hydrocodone, codeine, morphine, and others. All opioids interact with opioid receptors on nerve cells in the body and brain, resulting in similar effects. Opioid painkillers are generally safe when taken as directed by a physician, but they cause euphoria in addition to pain relief, which can lead to misuse. Dependence and addiction are common consequences of long-term use of opioid painkillers, even when prescribed by a physician. Regardless of the legality of an opioid, misuse can result in overdose and death.

There has been some improvement in some areas of the country in terms of a decrease in the availability of prescription opioid painkillers and a decrease in their abuse among the population. However, since 2011, overdose deaths involving heroin have risen dramatically, largely as a result of the inclusion of fentanyl, an opioid 50-100 times more potent than morphine.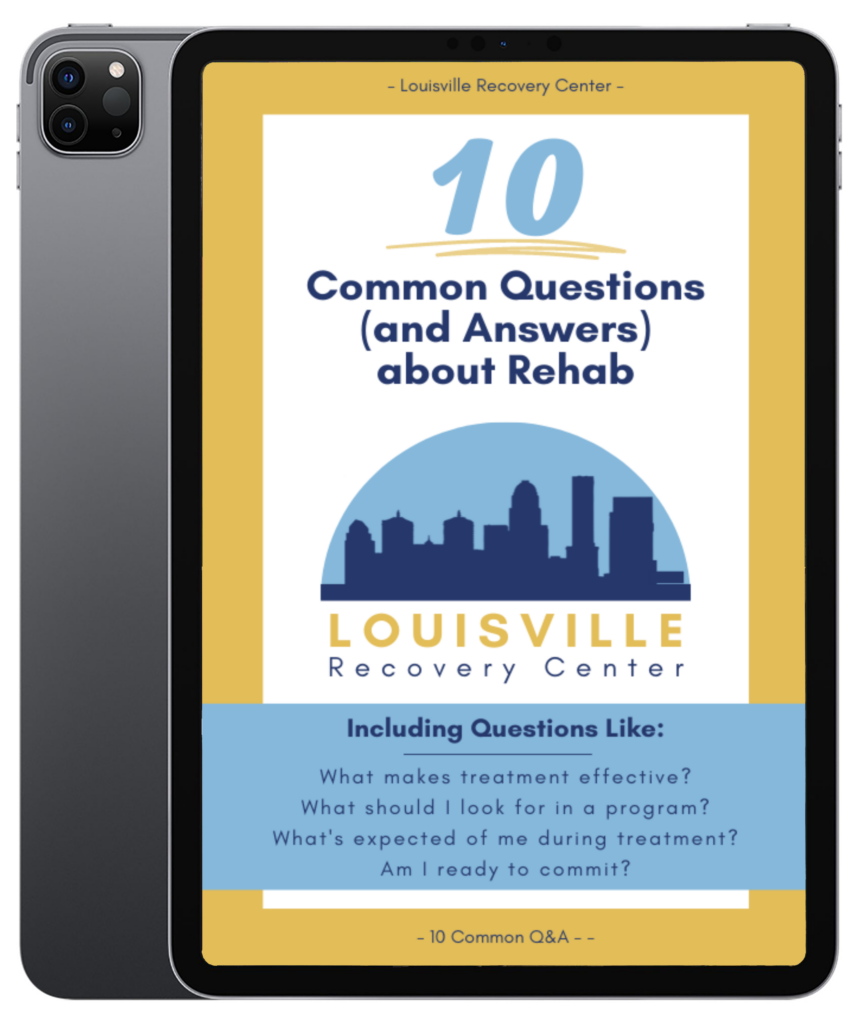 Fill Out This Quick Form To Download Our FREE 10 Q&A About Rehab eBook
Signs of Opioid Addiction
Opioid addiction may manifest itself in a variety of symptoms. Those symptoms include:
● Anxiety
● Depression
● Lack of motivation
● Irritability
● Weight loss
● Neglecting family, work, or social obligations
● Isolation
● Disorientation
● Slurred speech
● Impaired motor skills
● Stealing
● Legal troubles
● Financial instability
● Nausea
● Confusion
● Joint pain
● Loss of interest in activities once enjoyed
Rehab For Opioids In Louisville
As stated previously, opioids kill 128 Americans each day and that number is only increasing. By countering the addictive effects on their brain and behavior, treatment for opioid addiction can save lives and help individuals get their lives back on track. Keeping a person alive and helping them recover from opioid addiction is possible with treatment and the first steps towards recovery are preventing overdose death and finding effective treatment options. The following are reasons why rehab for opioid addiction is crucial:

● Build New Habits – Our lives can disintegrate a small amount each time we develop an addiction, and we might be unaware of it until it is too late. We might start arriving late to work, stop practicing our workouts, or neglect our personal hygiene as a result of an addiction. Seeking treatment enables you to create and maintain new, healthy lifestyles. You can create and maintain your own routines, or you may establish them in a way that counters your habit. As a result of this treatment, you will be able to establish these habits throughout your lifetime as well as in the present.

● Identify Underlying Issues – Addiction treatment unlocks additional assistance and accountability options such as therapy, rehab, and support groups, among others. With so many support possibilities, you can expect a full-spectrum of healing, which helps you pinpoint and deal with any underlying issues behind your drug habit. You can learn why you turned to opioids, when you were most susceptible to them, what triggered your addiction, and more. You will be able to recognize yourself on a deeper, even cellular level and maintain a happier life that is more in line with your long-term goals and desires.

● Repair Damaged Relationships – Opioid addictions negatively affect not only you, but also the people around you. We develop certain character traits as a result of our opioid addiction that adversely affect our relationships and even rupture them. Sometimes we become so engulfed in our addiction that we harm our family and friends that we don't notice. We may become so consumed with our addiction that we don't notice that we have developed a negative perspective of the world, become repetitively rude at family events, or have a tendency to cancel dates at the last minute. Because of this, addiction impacts everyone around us to some degree.
Because it might take some time before your loved ones trust you again, seeking treatment is a good idea. You may want to keep your commitment to your recovery consistent and regular as one of the most successful ways to show your family that you are prepared and able to start rebuilding your connections with them.

● Stay Alive – When we are addicted, we often develop a false sense of security by forgetting the dangers of the drug and its potentially fatal consequences if we misuse it. Seeking treatment is one of the most effective ways to remove yourself from the danger zone immediately and put yourself in a safe environment. It is also one of the most effective ways to heal your mind and body, enabling you to keep living and enjoying a long life, which you might otherwise not have been able to.
Opioid Rehab at Louisville Recovery Center
With the right treatment, you can eliminate opioid addiction and begin a new phase in your life. Louisville Recovery Center provides inpatient and outpatient substance abuse treatment that focuses on providing personalized care for the whole person. When selecting a program, you should be aware of all the possibilities. We provide a variety of treatment options at different levels of intensity if you or a loved one requires assistance.

Partial Hospitalization Program (PHP)- An PHP therapy program provides a variety of services after a successful withdrawal. This intensive treatment option is used to treat addiction-related social and behavioral issues in order to help people maintain abstinence. In our Partial Hospitalization Program, we offer comprehensive therapeutic processes based on a 12-step approach that combines various holistic therapies and exercises. This program concludes you will be encouraged to move to an outpatient treatment program. It is crucial to participate in this next phase of therapy in order to decrease your risk of relapse.

Intensive Outpatient Program (IOP) – Those who reside in a sober living environment or another suitable environment for long-term sobriety may participate in the Intensive Outpatient Program. It is a low-key, part-time daily therapy program for people with opioid addiction. While in the program, clients will attend scheduled individual and group therapy sessions and participate in support groups. This outpatient program is suitable for people seeking opioid addiction treatment while also seeking to return to work, school, or family life. It is especially beneficial for those who have completed a comprehensive treatment program such as an inpatient or PHP program and still want clinical support in everyday life.

Aftercare – Aftercare is always a viable option for individuals who have completed some sort of drug or alcohol rehabilitation treatment. Whether you've completed a rehabilitation stay, a partial hospitalization program, or one of our specialized treatment tracks, aftercare is always a good idea. After treatment at Louisville Recovery Center, patients who want to remain connected to the recovery community can continue to receive the services they received throughout treatment. Dual diagnosis treatment, medication management, and group therapy are just a few of the services provided in aftercare.
Therapies Offered
Behavioral therapies, which are frequently used to treat opioid addiction, are available in both inpatient and outpatient settings. The following are examples of some of the therapies we offer at Louisville Recovery Center:

● Psychotherapy – Psychotherapy can help addicts with addiction-related mental health problems. When an addict is actively using, he or she often struggles with mental health issues. By eliminating these issues, psychotherapy may significantly improve the health of those receiving it. Although psychotherapy is generally used to treat addiction and mental health issues, some individuals use it to address everyday difficulties. Clients benefit from a type of psychotherapy regardless of what issue they are facing.

● Mindfulness-Based Therapy – Rather than focusing solely on the substance abuse, addiction recovery using a mindfulness approach treats the entire individual. Among the many health advantages of mindfulness are reductions in anxiety, stress reactivity, distraction, and depression, all of which may impede recovery. Self-compassion, concentration, cognition, heart and immune system health, rest, resilience, connection, and feeling of belonging are just a few of the outcomes of mindfulness-based therapy that have been clinically demonstrated.

● Adventure Therapy – Adventure and experiential therapy offer the chance for clients to develop self -confidence, communication, and social skills, as well as teamwork, self-reflection, and more. A variety of adventure therapies exist, but in general, they utilize fun activities and group outings to assist patients by providing real-world support.

● Equine Therapy – Equine-assisted therapy (EAT) is a form of therapy in which horses are used. During these sessions, qualified professionals handle the horses to ensure client protection. In addition to haltering, leading, and grooming the horses, a variety of activities may be performed. The horses may assist clients in developing a variety of skills, including emotional regulation, self-confidence, and responsibility, among others. Therapy sessions have grown in popularity as a result of this approach's experiential nature and some early evidence of its efficacy.
Louisville Recovery Center is Here to Help
If you or a loved one is experiencing opioid addiction and wants professional addiction
treatment, please contact Louisville Recovery Center right away. Our qualified specialists are available to answer any questions you have and assist you in taking your first step towards a drug-free existence.