Identifying Fentanyl: What Does Fentanyl Taste Like?
For individuals who engage in substance abuse, they may have wondered, "What does fentanyl taste like?" As the opioid crisis continues to rage on throughout the United States, this question becomes more popular. Understanding the taste of this substance holds crucial significance for individuals navigating the treacherous waters of recreational substance use, for those seeking to avoid unknowingly consuming it, and for harm reduction efforts aiming to save lives.
In this article, we will explore how to identify fentanyl by understanding what fentanyl is, its side effects, what it looks like, what it tastes like, what it smells like, and how to test for it in other substances.
What is Fentanyl?
Fentanyl is a powerful synthetic opioid medication primarily used for pain management, particularly in severe pain, such as during surgery, for cancer patients, or in end-of-life care. Fentanyl is highly potent, estimated to be 50 to 100 times greater than morphine, and poses a heightened risk of overdose, even in small quantities. Fentanyl belongs to the opioid class of drugs, with various forms of fentanyl being available for use.
Side Effects of Fentanyl
While fentanyl can be used to relieve pain or recreationally, it can cause some life-threatening side effects to occur. It's essential to recognize that the severity and frequency of these side effects can vary depending on factors such as the dosage, duration of use, and the individual's body composition. Some of the most common side effects of fentanyl include the following:
Drowsiness
Nausea or vomiting
Constipation
Respiratory depression
Confusion
Dizziness
Low blood pressure
Sweating
Read More: Fentanyl Withdrawal Timeline, Symptoms, & Treatment
What is the Importance of Identifying Fentanyl?
Being able to correctly identify fentanyl is essential to preventing accidental drug overdose, addressing the opioid epidemic, and reducing the impact of fentanyl addiction on communities. There are many ways to identify fentanyl, and most individuals will try to use their natural senses to detect fentanyl. This includes taste, sight, and smell to determine whether a substance has fentanyl in it or not.
What Does Fentanyl Taste Like?
Fentanyl is notorious for being virtually tasteless, which poses a significant challenge when it comes to identifying it based on flavor. Unlike many substances that have distinctive tastes or odors, fentanyl does not have a strong or detectable flavor. This inherent lack of taste is a deliberate design feature in pharmaceutical fentanyl products, intended to make the medication easy for patients to tolerate when administered.
However, the lack of flavor in fentanyl has made it a top choice for drug dealers, as they can use it to 'cut' other drugs, such as heroin or prescription pills. By adding fentanyl, individuals can increase the potency of the substance without the user knowing. Relying on taste to identify fentanyl can lead to dangerous consequences, such as fentanyl overdose or severe side effects.
What Does Fentanyl Look Like?
Another aspect of properly identifying fentanyl involves understanding the various physical forms it can come in. These forms can vary depending on the pharmaceutical or illegal form of fentanyl. However, it's important to know that the appearance of fentanyl can still vary widely and can be even harder to detect when mixed with other substances. Fentanyl may come in these forms:
Fentanyl patches
Fentanyl lozenges
White powder form
Counterfeit pills
Liquid forms, such as injectables
Nasal sprays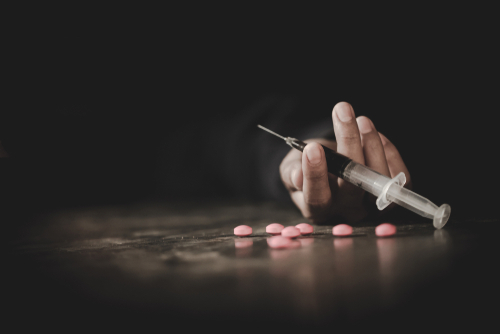 Does Fentanyl Have a Smell?
Fentanyl does not have a smell. This makes it challenging to detect fentanyl in substances by smell, no matter if it's the pharmaceutical or illicit form. As fentanyl does not produce an odor, it is easier to combine with other substances, making it harder to detect when used. Relying on the smell of a substance to identify fentanyl can be highly unreliable and even dangerous. Some individuals may mistakenly assume that the absence of a particular odor indicates the absence of fentanyl, which can lead to risky fentanyl abuse.
How Has Fentanyl Impacted the Opioid Epidemic?
The opioid epidemic, a public health crisis of unprecedented proportions, has been significantly increased by the introduction of fentanyl into the illicit drug market. Fentanyl, a synthetic opioid initially developed for medical use, has become a potent and dangerous force in the ongoing opioid crisis. According to the National Survey on Drug Use and Health, 8.7 million individuals misused prescription painkillers in 2021. Of those individuals, 6.2% misused pharmaceutical fentanyl, not including the amount of individuals who misused illicitly manufactured fentanyl.
Fentanyl has transformed the landscape of the illicit drug market. It is often mixed with other substances, such as heroin or cocaine, without the knowledge of the user. This combination not only increases the potency of these drugs but also makes it challenging for individuals to gauge the strength and potential risks of the substances they are consuming. This uncertainty has led to a surge in accidental fentanyl exposure and overdose cases.
How to Test for Fentanyl in Other Drugs
Testing for the presence of fentanyl in other drugs is a critical step in harm reduction, especially given the widespread addiction of street drugs to this potent synthetic opioid. Accurate testing can save lives by allowing individuals to make informed decisions about their drug use and take necessary precautions. We have found some of the most common ways to test for fentanyl in other drugs. Here is a step-by-step guide on the best way to test for fentanyl:
Acquire a Fentanyl Testing Kit: Fentanyl testing kits, also known as reagent test kits or drug checking kits, are readily available online and at some harm reduction organizations or addiction treatment centers. These kits contain fentanyl test strips that have chemical reagents that react with specific substances, including fentanyl, producing color changes that can indicate the presence of the drug.
Obtain a Small Sample: Take a small sample of the substance you want to test. This sample should be as pure as possible and free from contaminants. Use a clean utensil, such as a knife or a disposable spatula, to collect the sample. After collecting the sample, then place it on the test strip.
Interpret the Results: The color changes in the testing strip will indicate the presence or absence of fentanyl or other substances. Different chemical reagents can detect various substances, so it's essential to check the kit's user manual to understand the reactions. Reagent testing is not foolproof, and false positives or negatives can occur.
Depending on the results of the test, the substance tested may have fentanyl in it. If it does contain fentanyl, it's vital to understand that there may be dangerous consequences to using the substance.
Learn More: Can You Survive a Fentanyl Overdose?
Addiction Treatment Services in Louisville, KY
As individuals who are already struggling with substance use disorders, they may be curious about other substances, such as fentanyl. As fentanyl abuse has risen over the past few years, it is essential to know how to identify the drug properly. Unfortunately, fentanyl does not have a taste or strong odor to discern it from other substances, making it a popular choice for drug dealers. If an individual develops a fentanyl addiction from unknowingly consuming fentanyl, it is best to receive treatment as soon as possible.
At Louisville Recovery Center, located in Louisville, KY, we provide experiential, holistic, and individualized addiction treatment services for all types of substance abuse, including fentanyl use. Our services include dual diagnosis, intensive outpatient programs, medication-assisted treatment, individual therapy, aftercare support services, and more. These services ensure we treat the entire individual, including their mind, body, and spirit.
If you or a loved one are suffering from fentanyl addiction or other drug addictions, contact us today to learn more about our treatment programs and how we can help you begin to recover.