Recent Drug Busts in Louisville, Kentucky: What This Means
Within the past five months, several huge drug busts have occurred in Louisville, Kentucky. The drugs found were primarily fentanyl, the opioid largely responsible for the third wave of the country's drug epidemic. So, what does this say about the city of Louisville? Is drug addiction more rampant here than in other U.S. cities? This article will detail the latest drug busts in Louisville and shed light on an ongoing problem in Kentucky and the rest of the country.
May 16, 2022
On May 16th, the DEA and the Louisville Metro Police Department raided a storage facility in Louisville and seized 20,000 to 30,000 suspected fentanyl pills in addition to 8.5 kilograms of fentanyl. The seizure was part of a long-term investigation by the Louisville Metro Police Department and the U.S. Drug Enforcement Administration. According to DEA officials, it takes just 2 milligrams of fentanyl to kill someone, and a kilogram of the substance has the potential to kill half a million people. The police department commended the officers' diligent work in saving lives after the raid.
July 21, 2022
On July 21, DEA agents working with the Jeffersontown Police Department seized 30 kilograms of cocaine and one kilogram of Fentanyl. Officials said that the drugs were to be distributed throughout Louisville and eastern Kentucky. Law enforcement officers arrested two Texas men without incident after seizing the drug stash. Roberto Soto-Mora and Hector Manuel Soto-Alvarez are accused of conspiring to distribute controlled substances, distributing cocaine, and distributing Fentanyl among other charges.
The seizure and arrest, which occurred in conjunction with the drug seizure, conclude a drug investigation that began in August 2019. Investigators from the DEA, the Jeffersontown Police Department, the LMPD, and other state and local agencies seized throughout the course of this investigation: 89.063 kilograms of cocaine, 156 grams of crack cocaine; 42 grams of heroin, 1.159 kilograms of Fentanyl, three automobiles, and more than $2.4 million in cash.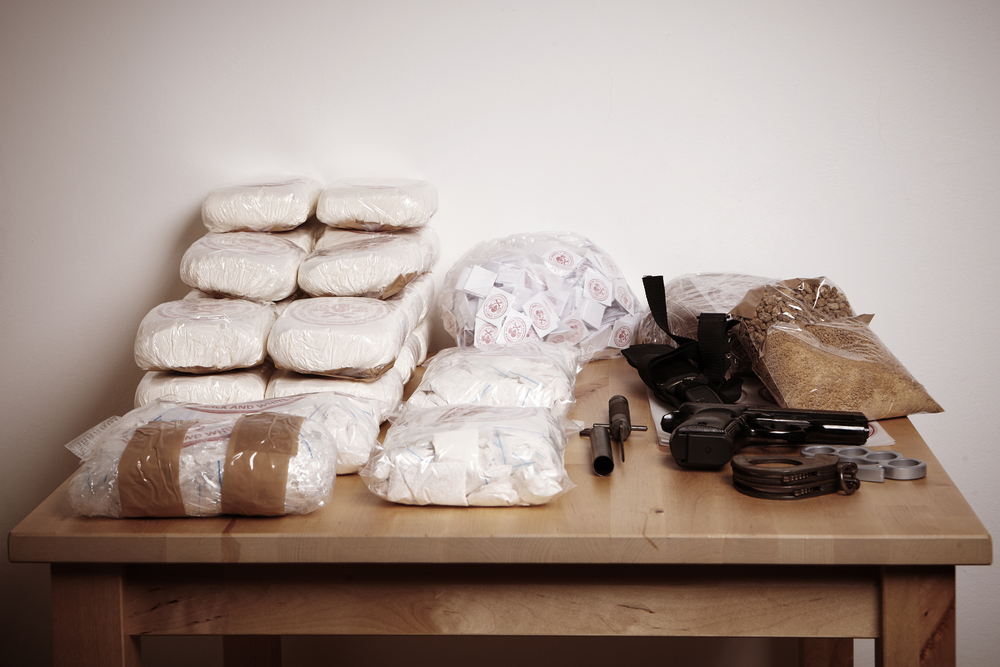 September 27, 2022
Louisville Metro Police confiscated more than 17 pounds of cocaine from the streets, along with an AK-47 and $100,000 in cash. The identities of the three individuals who were arrested are unknown at this time.
So, What Does This Mean?
According to the University of Pennsylvania research, America has spent over one trillion dollars enforcing drug policy since 1971. Despite the fact that both liberal and conservative observers agree that the war on drugs has not been successful, it has spanned several administrations and led to the creation of a federal agency, the Drug Enforcement Administration.
Despite an earlier decrease in drug use in the U.S., illicit drug use is once again on the rise, and it's increasing at an even quicker rate this time. According to the Substance Abuse and Mental Health Services Administration, the amount of illicit drug users in the U.S. increased to 13% of Americans 12 years and older in 2019, nearly reaching its all-time high from 40 years ago. The war on drugs hasn't accomplished much if its purpose was to reduce drug use and prevent drug-related deaths.
The DEA and its law enforcement partners confiscated over 10 million fentanyl pills and nearly 1,000 pounds of powdered fentanyl from May 23 through September 8, 2022. During this period, more than 36 million lethal doses of illegal drugs were seized. In addition, 338 weapons, including rifles, shotguns, pistols, and hand grenades, were confiscated. While the drug busts mentioned previously illustrate the accomplishments of law enforcement, they also highlight a growing concern: the fentanyl invasion.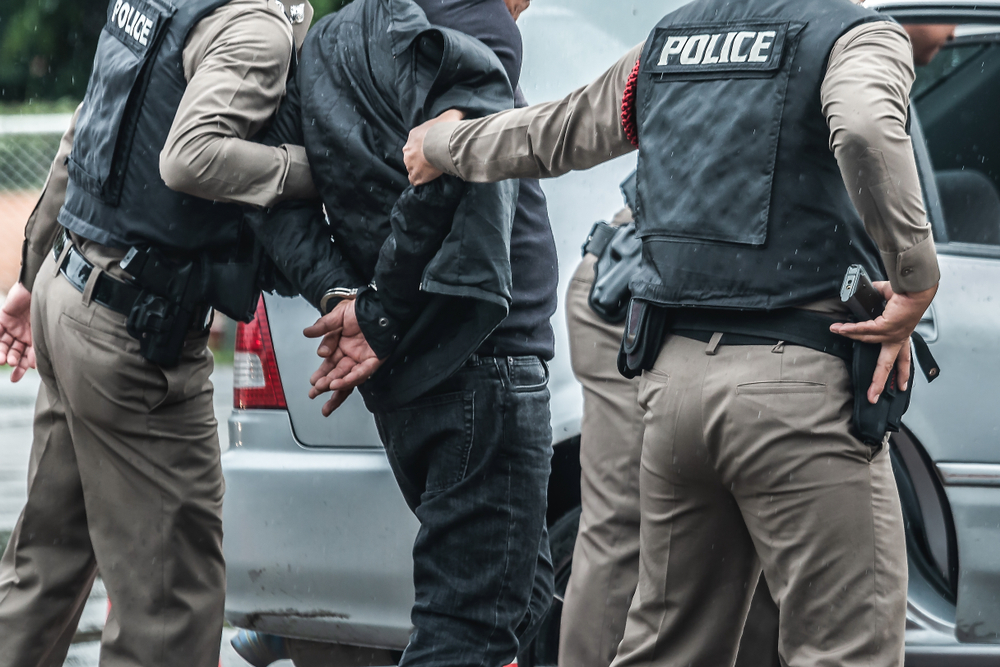 Fentanyl and the Third Wave
Every day, 91 individuals in the United States die from an opioid overdose, according to the National Institute on Drug Abuse. For several years, NIDA and other drug-abuse organizations have been focused on drug abuse and its repercussions. Beginning in the late 1990s, the over-prescription of painkillers such as OxyContin caused opioid addiction and mortality to rise.
A percentage of individuals who misuse prescription opioids transition to heroin use within three to five years, as street opioids are affordable and have similar effects as their prescription cousins and therefore fueled the second wave of the opioid epidemic. Our country is currently suffering from what experts refer to as the "third wave" of the opioid epidemic: a surge in fatalities related to fentanyl, a more potent analog of heroin.
Fentanyl is significantly more potent than other opioids—50 to 100 times more potent than morphine, for example. Its high lipid solubility contributes to its dangerousness, as it crosses the central nervous system very rapidly. Because of its high potency and quick absorption, fentanyl is especially addictive and dangerous. Even police officers and paramedics are at risk of accidentally coming into physical contact with or inhaling fentanyl, which may be fatal. However, most Individuals are affected by fentanyl through their addiction to other substances, particularly heroin. In some instances, people have been hospitalized or killed after consuming tainted counterfeit painkillers, or when their cocaine was mixed with fentanyl.
But, why does fentanyl have such a huge presence in the United States now? According to the DEA, the current flow of fentanyl into the United States is more diverse than at the start of the fentanyl crisis in 2014, with new source and transit countries becoming significant trafficking hubs. This is compounding the already complex fentanyl crisis by introducing additional countries into the global fentanyl supply chain, which includes fentanyl, fentanyl-related substances, and fentanyl precursors.
This also makes it more difficult for law enforcement and policymakers to stem the inflow of fentanyl into the United States. Despite Mexico and China being the primary source for fentanyl and fentanyl-related substances trafficked into the United States, India is emerging as a supplier of finished fentanyl powder and precursor chemicals.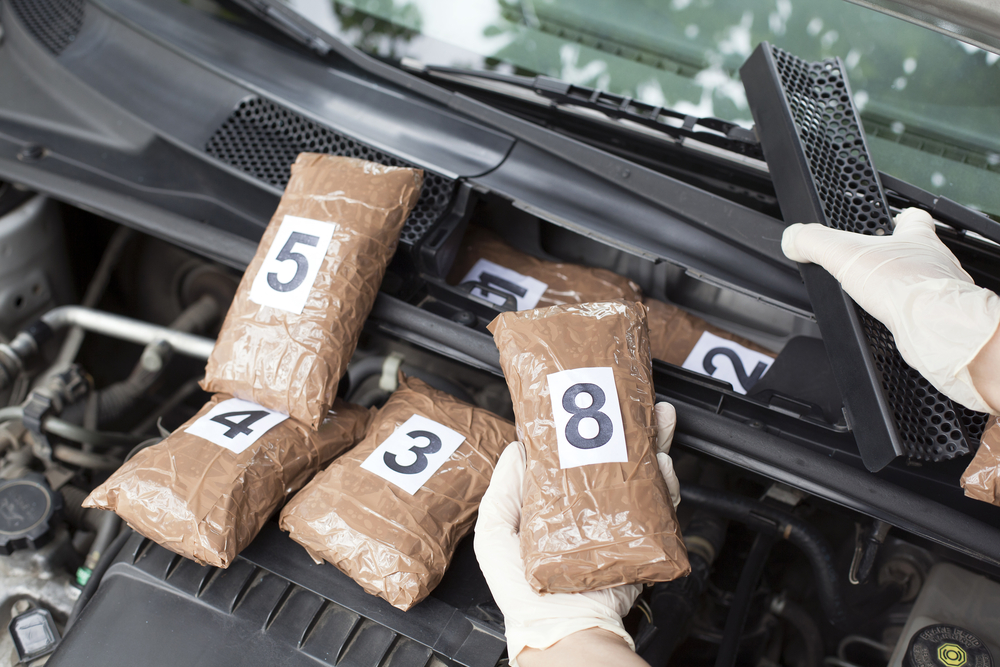 Fentanyl in Kentucky
According to a report released this year by the Kentucky Office of Drug Control Policy, more individuals are dying from overdoses, and in the majority of cases, fentanyl is involved. The report reveals that over 2,200 individuals died from an overdose in Kentucky in 2021, a 15% leap from the year before. According to the report, over 470 individuals in Jefferson County died from an overdose last year. Fentanyl or fentanyl analogs are found in over 70% of overdose cases.
Fentanyl in the United States

Overdoses involving fentanyl and fentanyl analogs, rose 56% between 2019 and 2020. In 2020, there were more than 18 times as many overdose deaths involving synthetic opioids than there were in 2013 with more than 56,000 overdoses involving synthetic opioids occurring just that year. According to the latest provisional drug overdose death counts, overdose deaths are accelerating during the COVID-19 epidemic. The following graph depicts the dramatic impact fentanyl has had on mortality rates in the U.S. in recent years.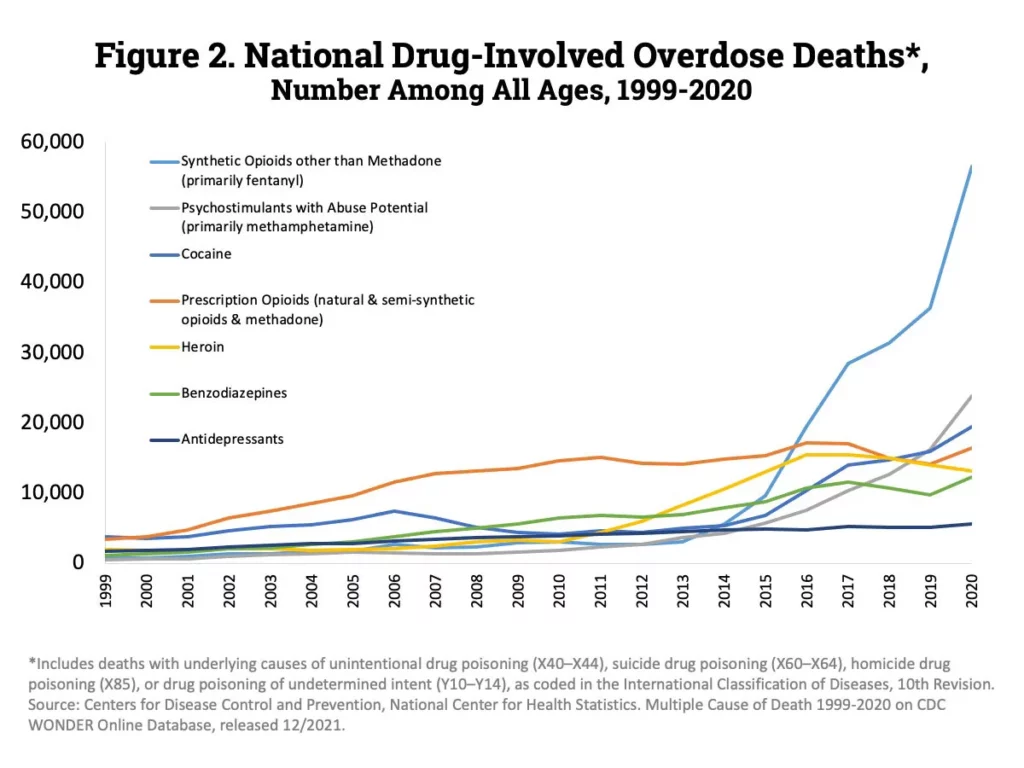 Louisville Recovery Center is Here to Help
Individuals suffering from substance use disorder may receive care, guidance, and complete treatment at Louisville Recovery. Treatment is critical for a variety of reasons, including providing information on substance abuse, assisting people to detox safely, addressing the cause of addiction, and helping people develop healthier stress management, relapse prevention, and abstinence skills. Your specific recovery needs and issues will determine the setting and level of care for your treatment.
If you or a loved one requires drug addiction treatment in Louisville or the surrounding area, please contact Louisville Recovery Center today. We can assist you, and we are prepared to do so.