Drug Addiction in Louisville
Drug addiction in Louisville and other parts of Kentucky has significantly increased within the last decade, and addiction does not discriminate. Substance abuse can affect people from all parts of society regardless of age, race, background, or the reason they first started taking drugs. People may use recreational drugs out of curiosity, to have a good time, because their friends are doing it, or to cope with issues like anxiety, stress, or depression.
Illegal drugs, like cocaine and heroin, are not the only substances that can result in abuse and dependence. Prescription medications such as painkillers, tranquilizers, and sleeping pills can also lead to similar consequences. In addition to marijuana, prescription painkillers are the most abused medication in the United States, and more individuals die from overdosing on opioid painkillers than from automobile accidents and gun deaths combined.
Continue reading to learn more about drug addiction and how Louisville and Kentucky as a whole have been affected.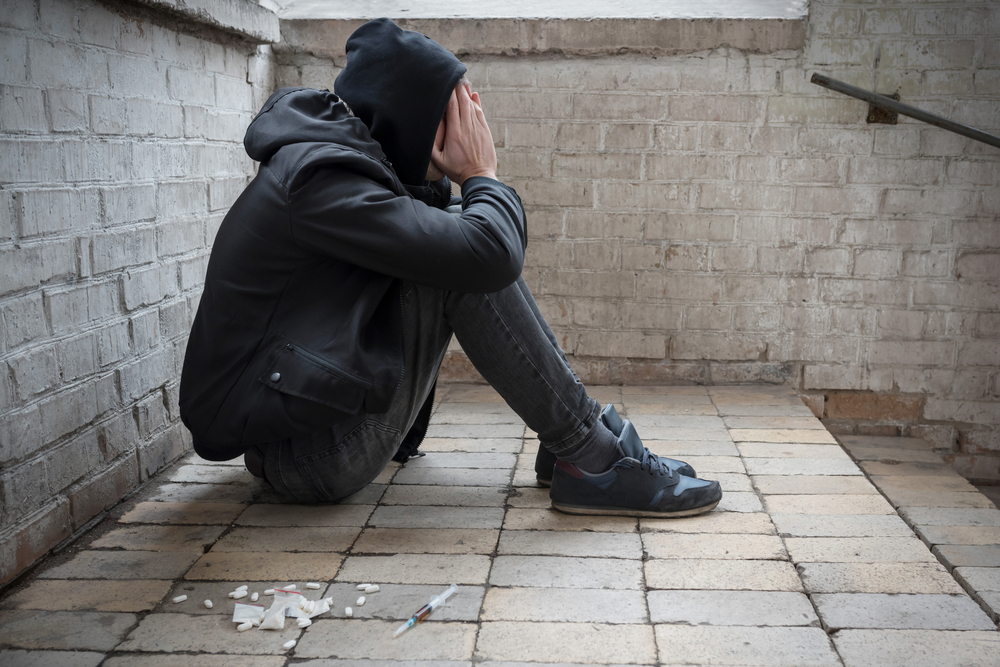 What is Drug Addiction?
The National Institute on Drug Abuse defines addiction as a relapsing condition characterized by compulsive drug seeking and use despite adverse outcomes. Because addiction affects brain circuits involved in reward, stress, and self-control, it is considered a brain disorder. Those brain circuits may be altered in a way that persists long after a person ceases using drugs.
It is incorrect to presume that drug use—whether it be prescription or illegal—always leads to substance abuse. While some individuals are capable of consuming recreational or prescribed drugs without suffering any adverse consequences, others find that substance use has a detrimental impact on their health and wellbeing. Similarly, there is no specific moment when drug use goes from casual to serious.
Drug addiction is less about the quantity of substance or the frequency with which you use drugs, and more about the consequences of them. If your drug usage is negatively affecting your life—at work, school, home, or in your relationships—you are probably addicted to or abusing drugs.
What Causes Drug Addiction?
Rather than being caused by one single factor, addiction is said to be the result of many factors all coming together to form a complicated disease. Common sources of addiction include:
Mental Illness – Mental health issues are one of those factors. As we know, those with substance problems frequently have mental health problems. According to the National Alliance on Mental Illness, over 50 percent of drug addicts have one or more severe mental health issues.
Genetic Predisposition – Genetic predisposition to addiction has been shown to play a significant role in contributing to most instances of addiction. According to research, having a parent who is an addict makes it eight times more likely that you will become an addict yourself. As stated by the the National Institute on Alcohol Abuse and Alcoholism, hereditary factors account for about 50 percent of addiction cases.
Drug-friendly Household- Even without developing an addiction, growing up in a drug-abusing household can cause serious damage. The Pennsylvania Family Support Alliance states that when an adolescent perceives that their parent believes that drugs are insignificant or harmless, they are more likely to experiment with them. When children are not educated against drug use or reprimanded for it, they grow up thinking that it is acceptable. This attitude often leads to an increase in usage.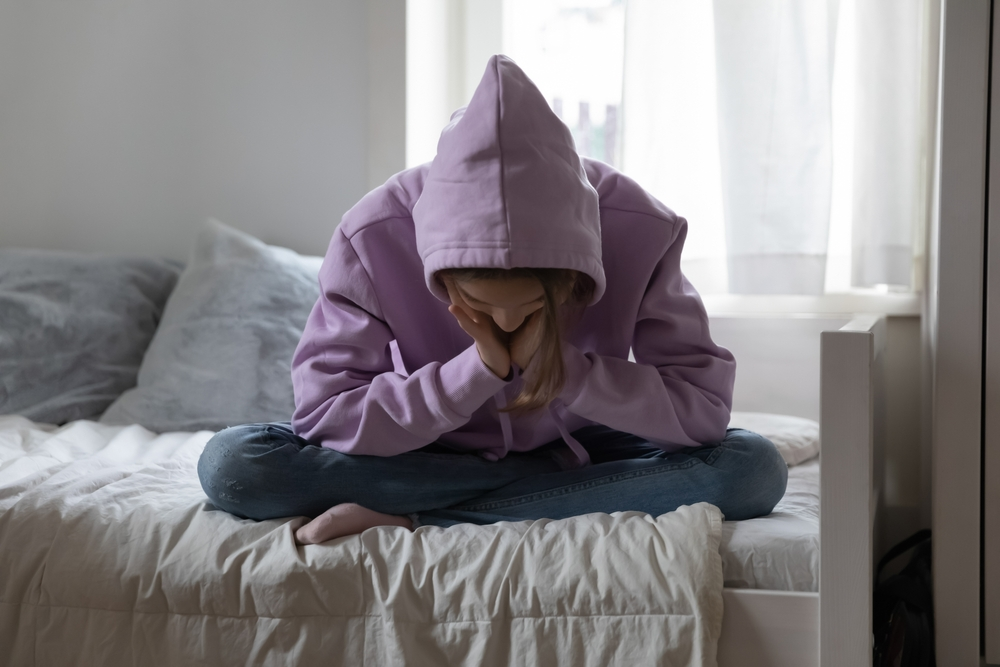 Signs that Someone is Addicted to Drugs
Awareness is vital. If you suspect a loved one is abusing drugs or addicted, you need to be aware of the warning signs, whether it be to prescription or illicit substances. The following are indicators of addiction:
Change in appearance (weight gain/loss)
Poor work performance
Isolation
Legal troubles
Loss of interest in things once enjoyed
Financial issues
Poor hygiene
Theft
Bloodshot eyes
Mood swings
Irritability
Defensiveness
Secrecy
Acts of violence
Drug Addiction in Kentucky
According to a June 2022 report, there were more than 2,000 drug overdose deaths in Kentucky last year (2021), an increase driven by the increased use of fentanyl — a potent synthetic opioid — resulting in a record number of deaths. According to Van Ingram, executive director of the Kentucky Office of Drug Control Policy, 2,250 Kentuckians died from drug overdoses in 2021— a problem affecting rural counties as well as the state's major cities. This was the first time that Kentucky recorded more than 2,000 drug overdose deaths in a single year, he said.
Addiction in Louisville
Every neighborhood in Louisville is affected by substance use, which is a community-wide issue. In 2016, Metro Emergency Medical Services (EMS) responded to overdose emergencies in every Louisville Metro ZIP Code according to Louisville's Department of Public Health and Wellness.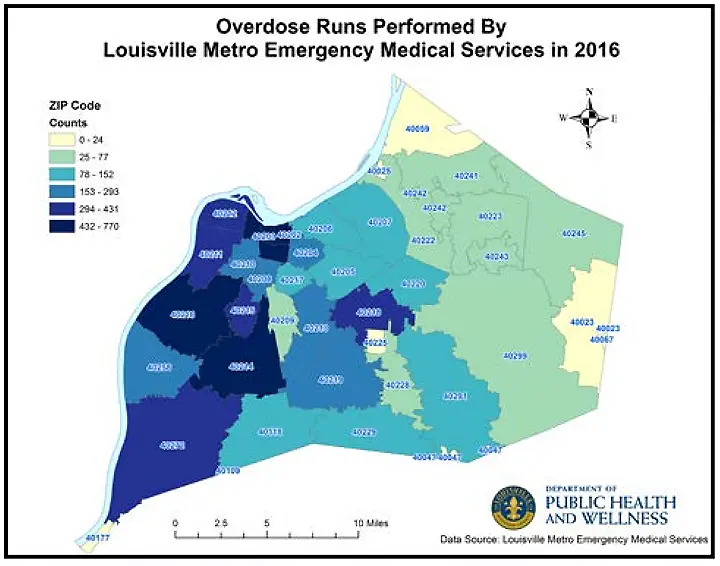 According to their collected data, overdose deaths in Louisville have risen every year since 2011 and the overdose death rate for every drug in Louisville is more than double the national rate. This is largely due to fentanyl. In 2016, 43 individuals died of drug overdose per 100,000 Louisville residents. Drug overdose deaths have affected every part of the Louisville community. From 2011 to 2016, overdose deaths occurred in nearly all Louisville ZIP codes.
How to Help Someone With a Drug Addiction
It's hard to begin a conversation with someone about their drug addiction, but you should approach it with understanding and compassion. An addict doesn't set out to be one; drug abuse is often an inadequate method of coping with painful situations or mental health issues. It is crucial that you approach your loved one with empathy and compassion, as substance abuse often develops as a result of stress. They will be more likely to seek comfort in substance abuse if you demean or shame them.
When you realize that a loved one is abusing drugs, you may experience shock, fear, and anger, particularly if it's your child or teenager. These strong emotions may make it even more difficult to communicate with an addict. Choose a time when you're both sober, sober, and free of distractions to talk. Offer your assistance and support without judgment. The following are some steps you can take to get your loved one the help they need:
Take action – Addiction should be treated as early as possible, so don't wait for your loved one to get arrested, lose their job, suffer a medical emergency, or publicly humiliate themselves to speak out.
Be Honest – You should express your concerns honestly, emphasizing that you care for the individual and are worried about their health. Provide specific examples of your family member's drug-related actions that have alarmed you, and be honest about your own emotions.
Offer to help – Provide them with information about how to tackle their drug issue—whether it's reaching out to a hotline, seeing a doctor or therapist, entering a treatment program, or signing up for a group such as SMART Recovery or Narcotics Anonymous (NA).
Prepare for the worst – You should be ready for your loved one to become defensive and refuse to discuss their drug use. Many people feel shame when confronted with their behavior and will attempt to deny they have a problem. Do not argue with them; just return to the issue at a later time.
Hope for the best – If your loved one is willing to seek treatment to go to treatment, support them by researching rehab centers or NA support groups with them and assuring them that they are making the right choice.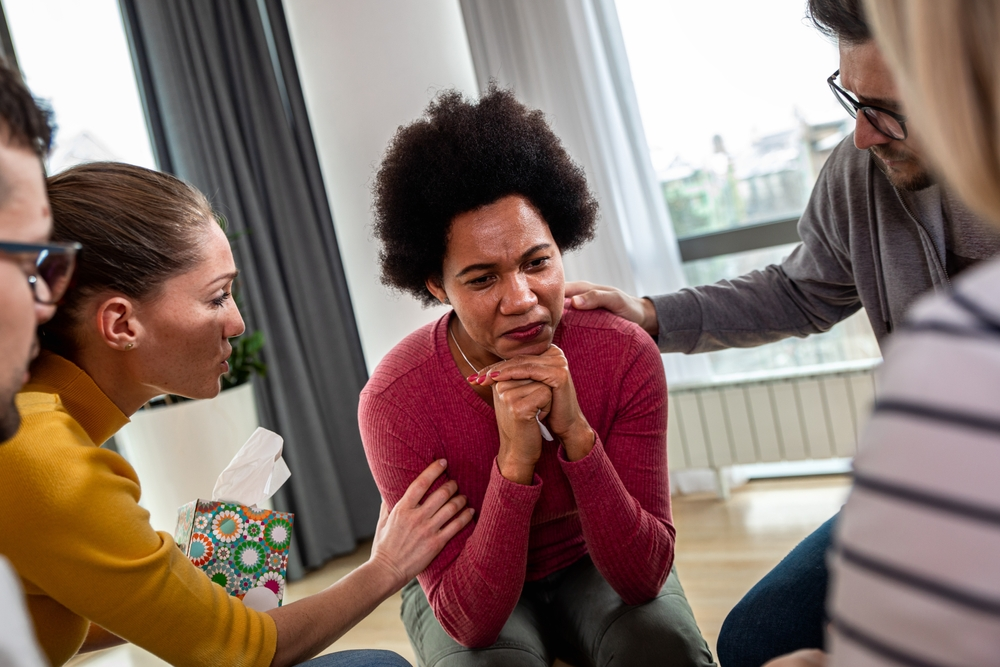 NA Meetings in Louisville
Narcotics Anonymous (NA) meetings provide addicts with a venue to connect with others in recovery. Even though everybody has their own motives for going to NA meetings, the purpose of these groups is to offer NA members help in overcoming addiction. Regular attendance at NA group get-togethers is a component of the twelve-step recovery program. The group environment allows addicts to acquire assistance from their peers and establishes an ongoing support network for those who desire to maintain a drug-free lifestyle.
The following are NA meetings in the Louisville area:
Monday
12:00 PM Caring Thru Sharing
Bardstown Road Presbyterian Church
1722 Bardstown Rd, Louisville, KY 40205
6:30 PM Primary Purpose
321 E. Market St., Jeffersonville, IN 47130
7:00 PM Why Are We Here
417 East Broadway Louisville, KY 40208
7:30 PM Against All Odds
Church of Our Merciful Savior
473 S. 11th St., Louisville, KY 40203
8:00 PM Acceptance Place
1370 Hwy 79, Irvington, KY 40146
Tuesday
11:30 AM Group 53
St. Paul Evangelical Church
2304 Crums Lane Louisville, KY 40216
12:00 PM Gratefully Dedicated
Zion Baptist Church
2200 W Muhammad Ali Blvd. Louisville KY 40212
12:30 PM Agape Group
Northeast Clifton Campus
131 Vernon Ave., Louisville, KY 40206
6:00 PM Searching for Serenity
200 South. Joe Prather Hwy Vine Grove, KY 40175
7:00 PM Ties That Bind
Hebron Presbyterian Church Activity Center
4765 N. Preston Hwy Shepherdsville, KY 40165
8:00 PM Another Day Clean
Ice House (enter, then door to left)
1400 South Shelby Street Louisville, KY 40217
Wednesday
12:00 PM A Vision of Hope
Zion Baptist Church
2200 W. Muhammad Ali Blvd. Louisville, KY 40212
6:30 PM New Way
7509 Charlestown Pike Charlestown, IN 47111
7:00 PM Escape From Denial
First Lutheran Church
417 E. Broadway, Louisville, KY 40202
7:30 PM Home Sweet Home
105 Big Indian Rd. NE, Corydon, IN 47112
8:00 PM Step Up Group
1020 W. Market Street Louisville, KY 40202
10:00 PM Point of Freedom
236 Woodbine St, Louisville, KY 40208
Thursday
12:00 PM Gratefully Dedicated
Zion Baptist Church
2200 W. Muhammad Ali Blvd., Louisville, KY 40212 1
2:30 PM Agape Group
Northeast Clifton Campus
131 Vernon Avenue Louisville, KY 40206
6:00 PM Recovery at Large
Safe Harbor Club
200 South Joe Prather Hwy Vine Grove, KY 40175
7:00 PM Hope for Us
First Presbyterian Church
396 West McClain Avenue Scottsburg, IN 47170
7:30 PM Cool Changes
First Lutheran Church
417 E. Broadway Louisville, KY 40202
8:00 PM Sanctuary
2501 W. Market St., Louisville, KY 40212
Sunday
1:00 PM Recovery at Large
Safe Harbor Club
200 South Joe Prather Hwy Vine Grove, KY 40175
1:30 PM Serenity on Sunday
2501 W. Market St., Louisville, KY 40212
6:00 PM Recovering Minds
Floyd County Token Club Upstairs
506 Pearl St., New Albany, IN 47150
6:30 PM Southwest NA Book Study
Faith Presbyterian Church
9800 Stonestreet Rd. Louisville, KY 40272
7:00 PM New Dawn
416 S. Buckman St. Shepherdsville, KY 40165
7:30 PM Home Sweet Home
Next Step
105 Big Indian Rd NE, Corydon, IN 47112
7:45 PM Group 53
St. Paul Evangelical Church
2304 Crums Lane Louisville, KY 40216
8:00 PM The Solution Group
206 S. Main St., Elizabethtown, KY 42701
To see the full Narcotics Anonymous meeting schedule for Louisville, Kentucky and the surrounding area, click here.
Louisville Recovery Center Can Help
Addiction can affect anyone. If you or a loved one is currently experiencing addiction, Louisville Recovery Center's customized services and treatment programs can assist you. We believe that anyone can recover from addiction. Our experts will help you create an addiction treatment program that suits your needs.
Common treatment programs include:
Intensive Outpatient Programs (IOP)
Full-time Addiction Treatment on campus
Aftercare Services
Let us assist you in overcoming addiction by providing information about our programs and services. Please contact us for more information. You are no longer alone in your struggle against addiction.