Alcohol Addiction in Louisville
Alcohol addiction in Louisville is becoming a serious problem. The city of Louisville's daily newspaper reported in 2017 that Louisville is 'the heaviest drinking city in Kentucky.' This is not surprising given that Louisville is the place that first sold bottled bourbon. Heavy drinking, however, has many negative effects and is potentially life-threatening, so people living in or near Louisville should have access to an excellent alcoholism treatment facility.
Louisville Recovery Center was founded due to the perceived lack of comprehensive addiction treatment centers in the region. It is the mission of the experts who work at Louisville Recovery Center to give individuals access to effective, quality care that treats the whole individual, not just their addiction.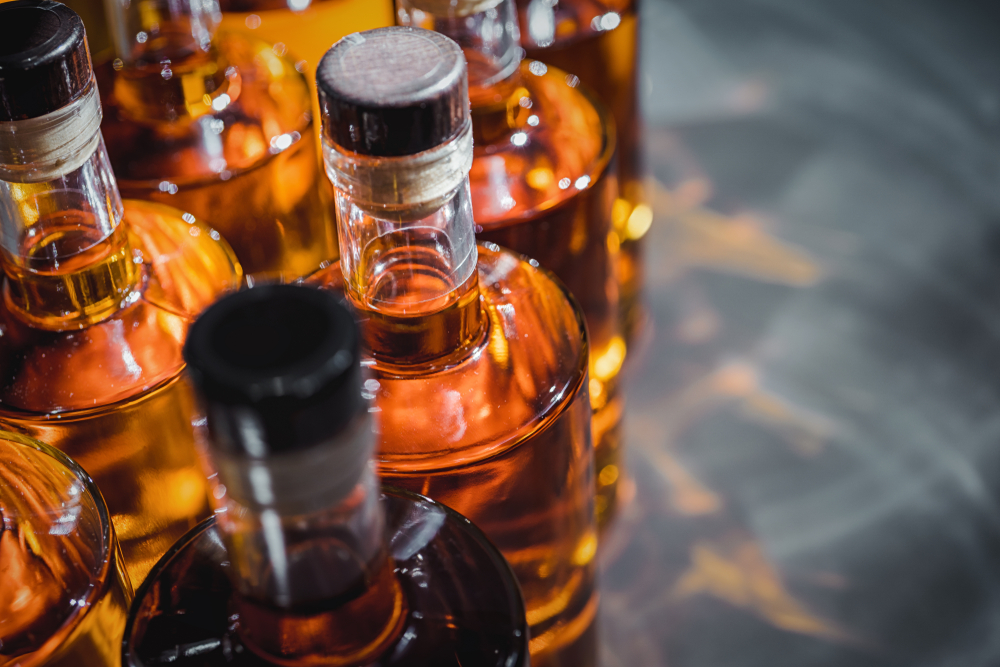 What is Alcoholism?
Alcoholism is the most extreme type of alcohol abuse and refers to an inability to manage drinking habits. It is also referred to as Alcohol Use Disorder (AUD). There are three categories of alcoholism: mild, moderate, and severe. Each category has a variety of symptoms, and harmful side effects may occur. In the absence of treatment, any kind of alcohol abuse leads to devastating consequences.
Signs of Alcoholism
It can be hard to detect alcohol abuse, but identifying it in the early stages improves the chance of successful rehab. There are, unfortunately, times when the warning signs are more difficult to recognize. These include:
Uncontrollable drinking
Making alcohol consumption a top priority
Insatiable cravings
Spending large amounts of money on alcohol
Mood swings
Self-isolation
Legal issues
What Causes Alcoholism?
Addiction is said to be caused by a combination of factors, rather than by a single factor. The following are common sources of addiction:
Mental disorders – Mental health issues are one of the factors contributing to substance abuse. Approximately 50 percent of drug addicts have one or more severe mental health issues, According to the National Alliance on Mental Illness, substance abuse frequently co-occurs with mental health difficulties.
Drug-friendly household/environment – Living in a household where drugs are used can cause serious damage, even if the individual does not develop an addiction. According to the Pennsylvania Family Support Alliance, an adolescent who perceives that their parent believes that drugs are insignificant or harmless is more likely to use them. Because children are not educated against drug use or reprimanded for it, they grow up believing that it is acceptable. This attitude often leads to an increase in drug consumption.
Genetics – Addiction has been shown to be significantly influenced by genetic predisposition. According to research, if one of your parents is addicted to drugs, your risk of becoming an addict is eight times higher. According to the National Institute on Alcohol Abuse and Alcoholism, hereditary factors account for about 50 percent of addiction cases.
Risks of Untreated Alcoholism
Your health can be seriously impacted if you drink too much – even on a single occasion. Some of the negative effects of alcohol are minor, whereas others can be fatal. Even short-term consequences of alcohol misuse can be dangerous. For example, consuming alcohol may negatively affect your reaction time, resulting in sluggish reflexes and coordination. That is why driving and drinking is extremely perilous. It's possible to misjudge distance and speed if you consume and drive, putting yourself and others at risk. Short-term effects on health include:
Slowed reaction time
Decreased motor functioning
Blurred vision
Decreased brain activity
Depressed breathing
Consuming too much alcohol can also significantly impair your long-term health. Certain adverse effects may take years to develop, so professional medical care is necessary for proper diagnosis and treatment. Long-term health complications include:
Liver disease
Brain damage
Wernicke-Korsakoff syndrome
Heart disease
Bone loss
Vision loss
Liver failure
Stroke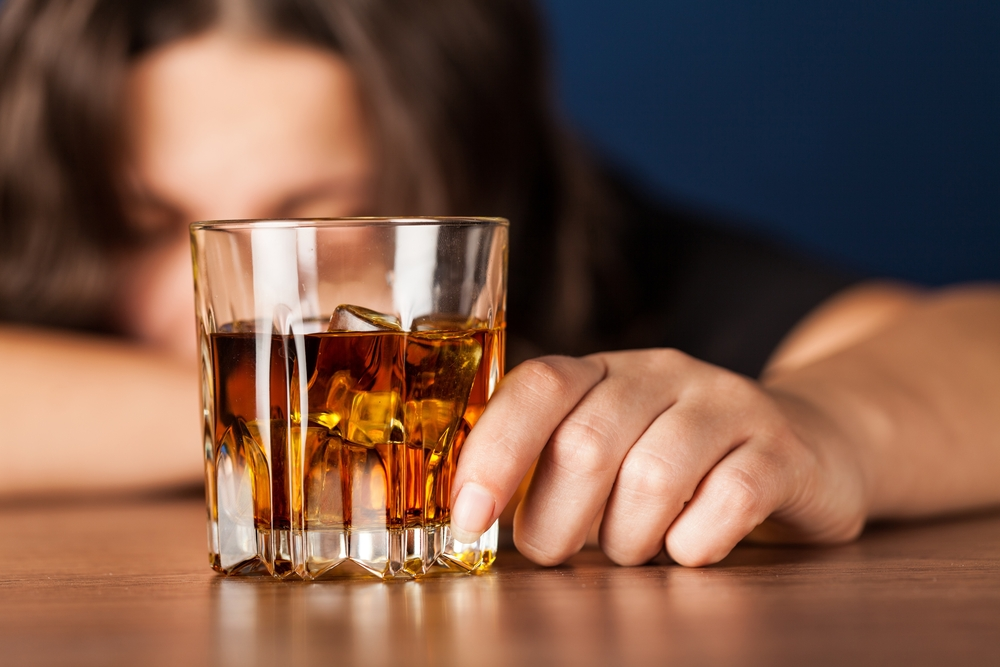 Alcoholism in Louisville
A recent study conducted by the CDC, reveals that Kentucky has the third-highest rate of binge drinking in the United States. According to the study, Kentuckians consume an average of over 650 drinks a year. The graph below shows this high rate of binge drinking in comparison to the rest of the United States: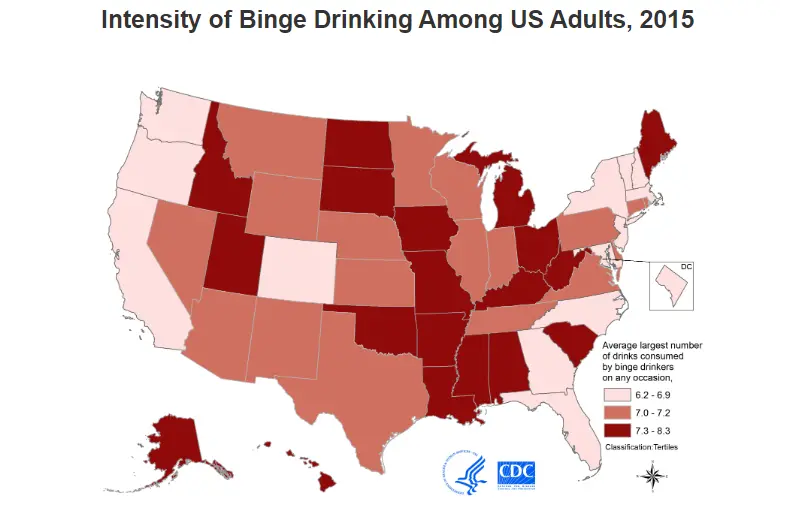 Data collected by the National Council on Alcoholism and Drug Dependence shows that, in Louisville: 40% of crimes are committed by people with alcohol dependency issues, 36% of crimes are committed while intoxicated, and 15% of robberies, 27% of aggravated assaults, and 37% of sexual assaults are alcohol-related.
An individual's health can be negatively impacted by a number of different factors, not just alcohol consumption. In Louisville, a lower proportion of adults are physically active and a higher proportion smoke than the national average, resulting in a lower proportion of adults reporting excellent or good health.
Treatment for Alcoholism in Louisville
Choosing to seek treatment for an alcohol dependency is one of the biggest decisions you will ever make. Because of the nature of alcohol abuse, there are various kinds of treatment, ranging from how much and how often they drink. After completing a rehab program, maintaining your recovery from alcohol addiction is a long process. It takes persistence to adhere to and apply the skills you learn in therapy, counselling, support groups, and other therapies while you were in treatment.
Alcohol treatment typically follows a set structure, although treatment plans are customized for each patient. The phases of treatment are:
Detox/ Detox referral – Detoxification is usually the first stage in treatment. The detox process successfully removes all traces of addictive substances from your body. If a treatment center does not have on-site detox, they will be able to refer you somewhere that does. Individuals should seek professional help when detoxifying from alcohol. Withdrawal symptoms can be dangerous, so detoxification should be supervised by a medical professional. In many instances, medicine is used to ease uncomfortable symptoms of withdrawal.
Rehabilitation – The treatment of alcoholism can be accomplished in two ways: inpatient rehab or outpatient rehab. Inpatient rehab programs are lengthy treatment programs in which people are required to stay for 30, 60, or 90 days. Outpatient rehab enables people to participate in recovery programs while continuing with their regular lives. An experienced treatment specialist can assist you in selecting the most appropriate treatment method for you.
Aftercare – Long-term sobriety requires ongoing therapy and may include support groups, counseling, and other recovery resources. These will guarantee that you continue to abstain and move forward in life in a healthy and happy manner for many years to come.
AA Meetings in Louisville
Alcoholics Anonymous (AA) meetings provide those struggling with alcohol addiction a venue to connect with others in recovery. Even though everybody has their own reasons behind going to AA meetings, the purpose of these groups is to offer AA members help in overcoming alcohol addiction. Regular attendance at AA group meetings is a component of the twelve-step recovery program. The group environment encourages addicts to acquire assistance from their peers and establishes an ongoing support network for those who desire to maintain a sober lifestyle.
The following are AA meetings within the Louisville, Kentucky area:
Sunday
8:00 AM Age of Miracles
4004 Shelbyville Rd
Louisville, KY
9:00 AM Metro Traditions Group
3439 Breckenridge Ln
Louisville, KY
2:00 PM Fourth Dimension
3439 Breckenridge Ln
Louisville, KY
4:00 PM We Are Never Alone Group
3439 Breckenridge Ln.
Louisville, KY
8:00 PM We Don't Know Group
2000 Douglass Blvd.
Louisville, KY
Monday
7:30 AM Monday Morning Gratitude Group
3439 Breckenridge Ln
Louisville, KY
6:00 PM Coffee House Group
2233 Woodbourne Ave.
Louisville, KY
7:00 PM Lowe Road Group
4700 Lowe Rd.
Louisville, KY
Tuesday
7:00 AM Early Worms Group
3439 Breckenridge Ln
Louisville, KY
1:00 PM Little Brick House Women's Group
9212 Taylorsville Rd.
Jeffersontown, KY
7:00 PM Grace Wins
9419 Seatonville Rd.
Louisville, KY
Wednesday
7:00 AM Brown Park Group
4350 Brownsboro Rd.
Louisville, KY
12:00 Noon Luncheon Group
3439 Breckenridge Ln
Louisville, KY
2:00 PM Sobriety and Beyond
3439 Breckenridge Ln
Louisville, KY
5:30 PM Hump Day Group
550 Blankenbaker Pkway
Douglass Hills, KY
Thursday
9:30 AM You Are Enough Women's Group
3439 Breckenridge Ln
Louisville, KY
12:00 What's For Lunch Group
3439 Breckenridge Ln
Louisville, KY
5:55 PM Change of Heart
2800 Frankfort Ave
Louisville, KY
Friday
7:00 AM Early Worms Group
3439 Breckenridge Ln
Louisville, KY
12:00 PM Friday Pedestrian Group
3439 Breckenridge Ln
6:00 PM Beyond Belief
142 Crescent Ave.
Louisville, KY
8:00 PM Gateway Group
2300 Taylorsville Rd.
Louisville, KY
Saturday
7:00 AM Saturday at 7
3439 Breckenridge Ln
Louisville, KY
10:00 AM Roadrunner Group
2300 Taylorsville Rd.
Louisville, KY
2:00 PM Sober on Saturday
3439 Breckenridge Ln
Louisville, KY
10:00 PM Better Late Than Never
2608 Browns Ln
Louisville, KY
For a complete list of Alcoholics Anonymous meetings in the Louisville area, click here.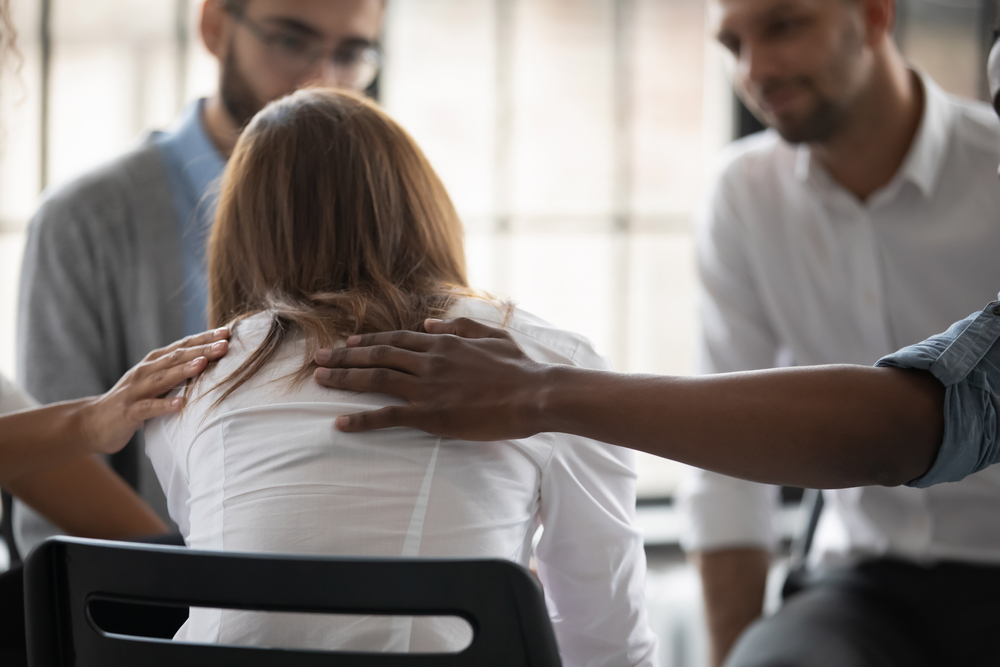 Louisville Recovery Center Can Help
Alcoholism can affect anyone. If you or a loved one is currently struggling with alcohol addiction in Louisville, help is available. Louisville Recovery Center's customized services and treatment programs can assist you. We believe that anyone can recover from addiction. Our experts will help you create an addiction treatment program that suits your needs.
Common treatment programs include:
Intensive Outpatient Programs (IOP)
Full-time Addiction Treatment on campus
Aftercare Services
Let us assist you in overcoming addiction by providing information about our programs and services. Please contact us for more information. You are no longer alone in your struggle against alcoholism.