Do Edibles Show Up In Drug Tests Even If You Only Took A Little?
If you want to know if edibles show up in drug tests, even if you only took a little, this is the article for you. Edibles were invented as a convenient way to consume THC without having to smoke or grind cannabis flowers. Unfortunately, many individuals assume that edibles don't show up on drug tests because they're not inhaling any smoke.
This article clarifies why edibles show up in drug tests no matter the amount you consume, as well as the risks and long-term effects of eating edibles and high amounts of THC.
What Are Edibles?
Edibles include any food item infused with THC (delta-9-tetrahydrocannabinol). The most popular edibles come in the form of gelatin gummies and can appear like regular store-bought candy or vitamins. As cannabis becomes legal in more and more states, edibles have been infused into various products like rice crispy treats, chocolates, lollipops, brownies, and cookies.
Many cannabis edibles are branded and disguised to resemble famous snack brands to avoid attention and potentially target young adults and adolescents. In some cases, spokespeople for popular snack brands have had to release statements declaring that they do not manufacture or are associated with any snack products or packaging containing THC. They even legally pursue entities selling products under their name or package design.
In states where marijuana is recreationally or medically legalized, edibles are usually manufactured and regulated by licensed companies and dispensaries. In illegal states, edibles are usually homemade and can be combined with other substances or less potent forms of THC, like delta-8 or delta-10.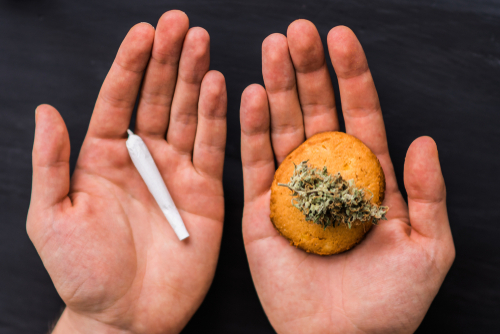 Do Edibles Show Up In Drug Tests?
Yes, edibles do show up in drug tests, including urine, hair, saliva, and blood screenings. The effects of edibles usually take longer to kick in than inhaling marijuana smoke since they need to go through your digestive system before reaching your bloodstream. This whole process can take up to two hours, which is why most individuals who take edibles eat them before they go out so they can time the effects with their plans.
Regardless of the ingestion method, THC will remain in your body (longer than inhaling cannabis) and can be detected through various drug tests.
Urine tests: The THC inside a single edible can be detected in your urine anywhere from 3 to 30 days.
Saliva tests: THC from an edible can remain in your saliva for up to 72 hours.
Blood tests: Edibles can stay in your blood for 3 hours to 4 days.
Hair tests: These tests are rare and more expensive, but if your employer or probation officer asks you to take a drug test that takes a hair follicle sample, you can expect THC to appear up to 90 days since you last ate or smoked cannabis.
Sweat tests: These tests are also rare and can be unreliable in some cases, but sweat tests can detect THC in someone's system for around 7 to 14 days after the last use.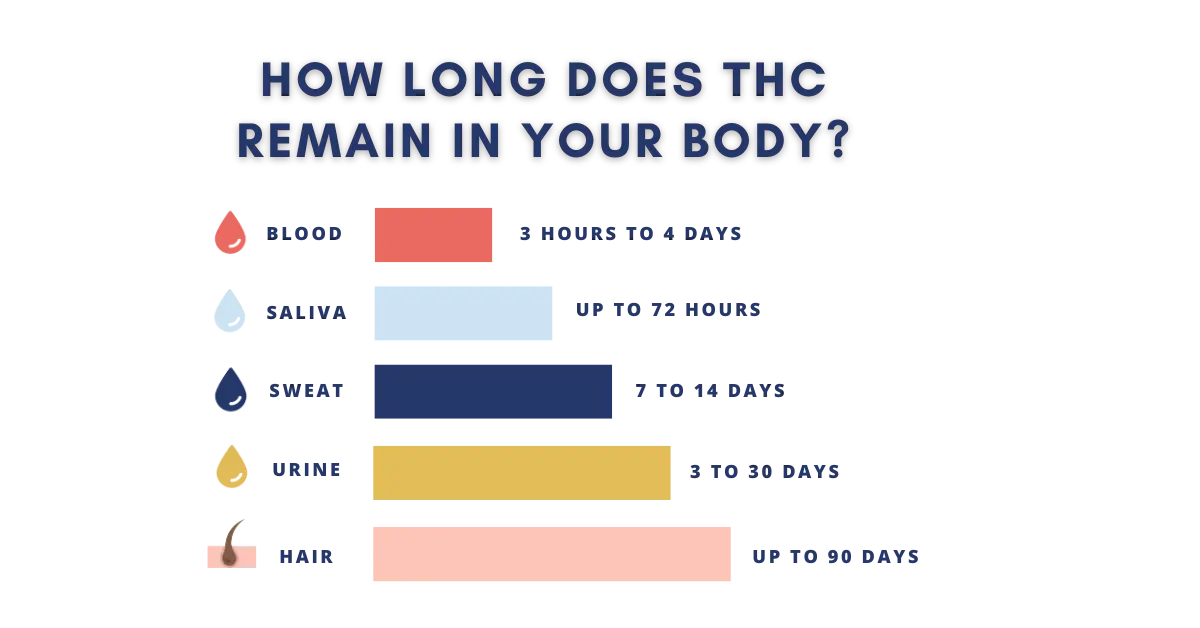 Delta-8 THC Edibles
One of the latest trends in the cannabis world is delta-8, 10, and THCO gummies. These edibles are supposed to contain under 0.3% of THC to be legally sold or distributed. But since cannabis is still federally illegal, the FDA cannot test or regulate these products, and they've released statements about their potential contaminants and unknown effects.
Because delta-8 edibles still contain THC, you should refer to the detection windows above if you consume any of these products.
Read more: Is Delta 8 Withdrawal The Same As Regular Marijuana?
What If You Only Took A Little?
Even if you only took a small bite of an edible, traces of THC can still be found in your system based on the type of drug test. Drug tests cannot tell how much THC is in your system, only that THC is present. If you eat a very small amount of a low-dose edible and don't consume them that often, there's a chance the THC will become undetectable within a week or so. But if you regularly consume or smoke cannabis, the THC can be detectable for up to 30 days or longer.
Most edibles come in various milligram sizes, with some cannabis products having as little as 5 milligrams of THC, with others upwards of 200 milligrams. But no matter the amount, when your body digests delta-9 THC and sends it to your liver, it's converted into 11-hydroxy THC. This stronger and more potent form of THC takes longer to break down in your body as it's absorbed into your tissue and fat cells (which is why most edibles are baked goods with THC-infused oils and butter).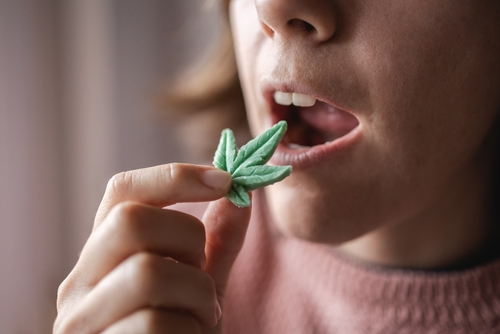 Risks Of Eating THC Edibles
Besides risking a positive drug test, marijuana edibles can have various negative effects that can impact both first-time smokers and heavy users.
First-time and occasional users: Edibles are converted into a more potent form of THC once it reaches your liver. Taking an edible without any prior marijuana use can overwhelm first-time users with intense and long-lasting psychoactive effects. Edibles take longer to kick in, and users can get caught off guard and feel anxious, paranoid, and nauseous for anywhere between 3 and 12 hours.
Heavy users: No matter the method of consumption, heavy users tend to build a tolerance to THC levels and require more and more amounts of cannabis to feel the same high. Over time, taking 200-milligram edibles can affect a chronic user's cognitive abilities and force their body to rely on marijuana to produce dopamine.
Read more: Hashish Vs. Weed: Which Is More Addictive?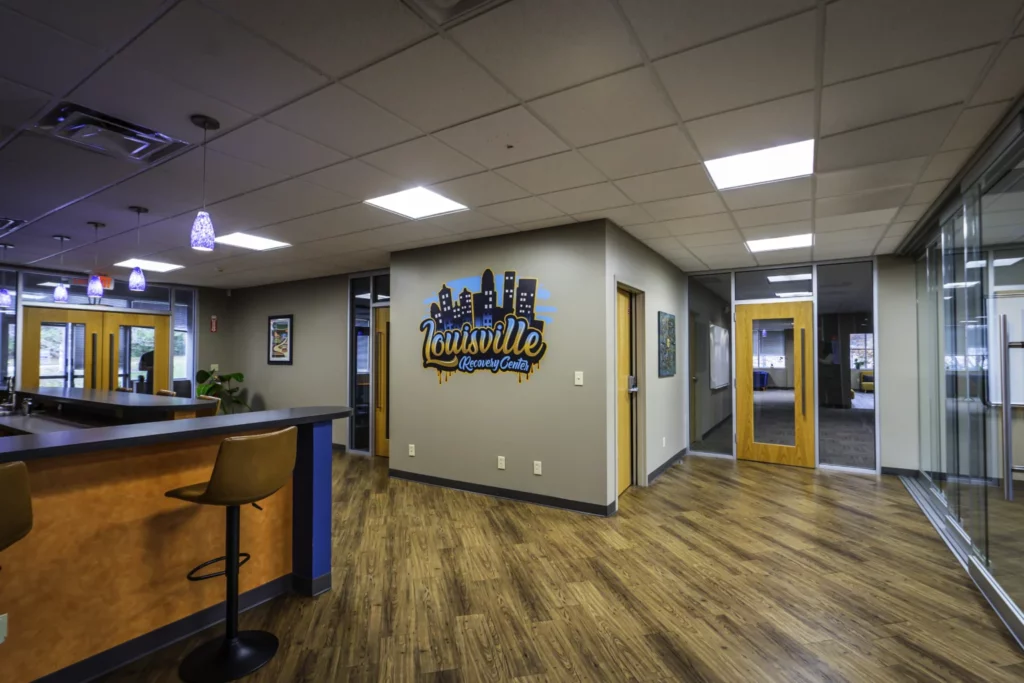 Contact Louisville Recovery Center
If you or someone you know is showing signs of a cannabis use disorder, such as eating edibles more frequently or smoking weed every day, contact Louisville Recovery Center. Our addiction treatment center has everything an individual needs to address addictions and mental health disorders. We frequently see individuals using marijuana to cope with or replace negative thinking habits, slowly allowing cannabis to become their primary source of relief. Louisville Recovery Center is dedicated to helping people find healthy coping skills and leave addictions and bad habits in the past.